DSMR Logger V4 (Smart Meter Reader)
Placed on
I2C interface
A number of builders of version 3 asked whether it would be possible to include a small Oled screen in a next version. There are two options for controlling an Oled screen. One is through one SPI interface the other uses the I2C interface. I chose to use the I2C interface.
Version 4 includes an expansion port with an I2C interface that can also be used for other modules. An Oled screen is controlled in the firmware.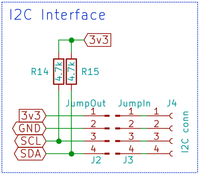 I2C Interface Circuit
An OLED module can be plugged directly into the J4 port. Because not every available OLED module has the same connections, the correct connections must be made via wire bridges J2 Unpleasant J3 are connected (in particular, GND and 3v3 are not in the same place on all Oled modules).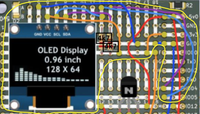 I2C Interface Circuit on the 1of!-Proto board
Above you can see the part of this circuit as it appears on it 1of!-Proto sign is made.