T-Display-S3 AMOLED - without headers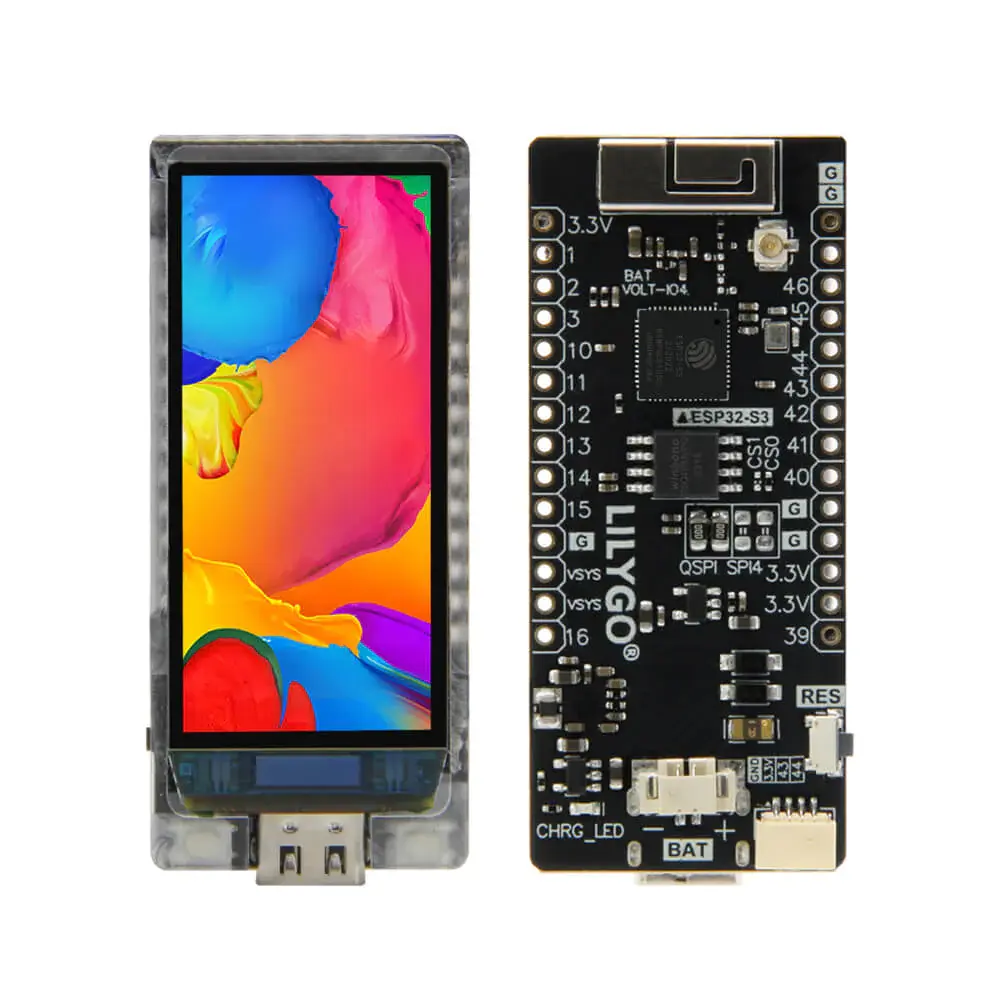 The Lilygo T-Display-S3 AMOLED is a display screen module featuring a 1.91" AMOLED screen. This module is an evolution from the preceding S3 module, sporting an enhanced screen resolution and a 3D antenna, providing a significant improvement in performance and functionality.
The module utilizes a SPI interface, offering compatibility with any microcontroller equipped with SPI capability. Its built-in battery management system provides an efficient power solution for portable applications. The compact dimensions of the module combined with its low power consumption make it suitable for wearable technology and Internet of Things (IoT) projects.
Engineers have applied the S3 module in various ways, including in the development of classic game consoles, monitors, and timers, demonstrating its versatility and adaptability.
Product Specifications:
MCU: The module is powered by an ESP32-S3R8 Dual-core LX7 microprocessor, which delivers robust processing capability.
Wireless Connectivity: It supports 2.4 GHz Wi-Fi and Bluetooth 5 (LE), offering a broad range of wireless connectivity options.
Development Environment Compatibility: It is compatible with Arduino, PlatformIO-IDE, and Micropython, which provides a variety of development possibilities.
Flash Memory: It is equipped with 16MB of flash memory, offering ample storage for applications.
PSRAM: The module comes with 8MB of PSRAM, providing sufficient memory for more complex tasks.
Battery Voltage Detection: It features IO04 for battery voltage detection, which allows for better power management.
Onboard Functions: Additional functionality is offered through the Boot (IO00), Reset, and IO21 buttons.
Not solder version: This Lilygo T-Display-S3 AMOLED comes as a not solder version, without headers, offering flexibility and ease for integration in your projects.
Display Specifications:
Screen: The module features a 1.91 inch RM67162 IPS AMOLED screen, offering a vibrant visual output.
Resolution: The screen resolution is 240 X RGB X 536(H), offering a detailed display.
Interface: It uses a QSPI interface, providing a fast and efficient communication method.
Active Area: The active screen area measures 19.8*44.22mm.
Driver IC: The module is equipped with an RM67162 driver IC, ensuring efficient screen operation.
Viewing Angle: The screen supports an IPS Full View Angle, providing a clear and consistent display regardless of the viewing position.
Brand information
To belong

€ 39,40
€ 32,55

Excl. VAT (NL)
Out of stock
Delivered in 14 to 30 days
Shipped from

€ 3,50

(NL)
30 days cooling-off
Excellent service
Customer questions
Customer Reviews
Recently viewed items