Scrolling Text Clock
Placed on
Components
To make this scrolling text clock we need the following parts.
The nutrition
In this design we use a 9 volt power supply, then we use a voltage regulator to reduce this to 5 volts. In theory you could also use a 5 volt power supply, without a voltage regulator. But the voltage regulator provides a bit of safety, we can now safely connect a 12-volt power supply without anything breaking.
If we were to use a 5 volt power supply, without a regulator, it would break if we accidentally connect a higher voltage.
Be sure to set the voltage regulator to 5 volts before plugging in the rest of the project!
Here is the power supply schematic: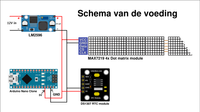 Schedule of the project
It may seem like a complicated scheme, but if you connect it step by step, you'll see that it's not too bad :-)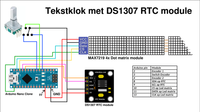 Arduino Sketch
When everything is connected we can start programming the Arduino (you can also do that first)..
You can download the sketch here: LINK
The zip file contains:
the schedule
the skit
a library: Copy this to the libraries folder of Arduino !
Watch the video!
I explain it step by step in the video.
Good luck building!