The SparkFun NEO-D9S GNSS Correction Data Receiver is a satellite data receiver for L-Band correction broadcast. It can be configured for use with a variety of correction services including u-blox's PointPerfect satellite GNSS augmentation service, which provides homogenous coverage in the contiguous USA and Europe. With a clear view of the sky, especially a clear view to the South, it decodes the satellite transmission and outputs a correction stream, enabling a multi-band high-precision GNSS receiver (such as the u-blox ZED-F9P) to reach accuracies down to centimeter-level positioning without needing a separate RTK or NTRIP correction!
The board is equipped with a USB-C connector so you can hook the board to your laptop and configure the device using u-blox u-center if you want to. We've also equipped the breakout board with two Qwiic connectors, so you can connect it quickly and easily to your favorite development board and control it using our sophisticated u-blox GNSS Arduino Library. An SMA connector is included for a secure connection to an L-Band antenna. Power, I2C, UART1, UART2, and SPI are broken out to 0.1" spaced PTH pins. By connecting the NEO-D9S breakout to one of the ZED-F9P's communication ports, you will be able to know where your (or any object's) X, Y, and Z location is to better than an inch, without needing a separate correction source!
Please Note:
PointPerfect L-Band correction service for the SparkFun GNSS Correction Data Receiver - NEO-D9S is currently onlyavailable in the USA's 48 contiguous states and the European Union shown in the coverage map below. More information on PointPerfect can be found
here
.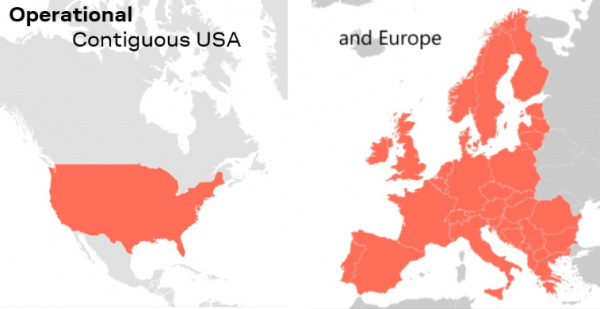 Accessories Required:
This product requires a suitable L-Band antenna. Be sure to check out the Hookup Accessories below to pick a suitable antenna for your project.
---
The SparkFun Qwiic Connect System is an ecosystem of I2C sensors, actuators, shields and cables that make prototyping faster and less prone to error. All Qwiic-enabled boards use a common 1mm pitch, 4-pin JST connector. This reduces the amount of required PCB space, and polarized connections mean you can't hook it up wrong.
---
Features:
1x USB Type C Connector
2x Qwiic Connectors
Default I2C Address: 0x43
Integrated SMA connector for use with L-Band antenna of your choice
Concurrent reception with L-Band Satellite
Receives L-Band
Time to First Frame
User Data Rates

600, 1200, 2400, 4800 baud

Vehicle Dynamics

Dynamics: +/- 2g acceleration for all data rates (600 bit/s, 1200 bit/s, 2400 bit/s, 4800 bit/s)
Velocity: Up to and including 300 km/h

Voltage: 5V or 3.3V but all logic is 3.3V
Current Consumption (Acquisition & Tracking):
Power LED
Jumpers

USB Shield
Power
3v3 (for UART2 Port)
I2C Pull-Up Resistors
SPI

Supports UBX protocols over UART or I2C interfaces
Board Dimensions

1.70" x 1.70" (43.2mm x 43.2mm)
Documents:
SparkFun Resources
u-blox Resources
Videos