The W5500 Ethernet expansion board is a new member of the DFRobot Ethernet family. It integrates PoE power supply and W5500 Ethernet chip, which can meet the requirements of general IoT projects.
The W5500 chip is a Hardwired TCP/IP embedded Ethernet controller that provides easier Internet connection to embedded systems. It enables users to have Internet connectivity in their applications just by using the single chip in which TCP/IP stack, 10/100 Ethernet MAC, and PHY are embedded. The Hardwired TCP/IP is the market-proven technology that supports TCP, UDP, IPv4, ICMP, ARP, IGMP, and PPPoE protocols. W5500 embeds the 32Kbyte internal memory buffer for the Ethernet packet processing. It's faster and easier way rather than using any other Embedded Ethernet solution. Besides, the W5500's SPI supports 80MHz speed and a new efficient SPI protocol for high-speed network communication. In order to reduce the power consumption of the system, W5500 provides WOL (Wake on LAN) and power-down mode.
With the same size as Arduino UNO, this W5500 Ethernet expansion board adopts IEEE 802.3at standard-compliant POE Class 0 power classification and offers MicroSD card socket and 2 standard Gravity-4Pin I2C ports, 1 UART, 4 Gravity-3Pin digital ports and 4 analog ports, etc.
Functionally compatible with Arduino Ethernet Shield 2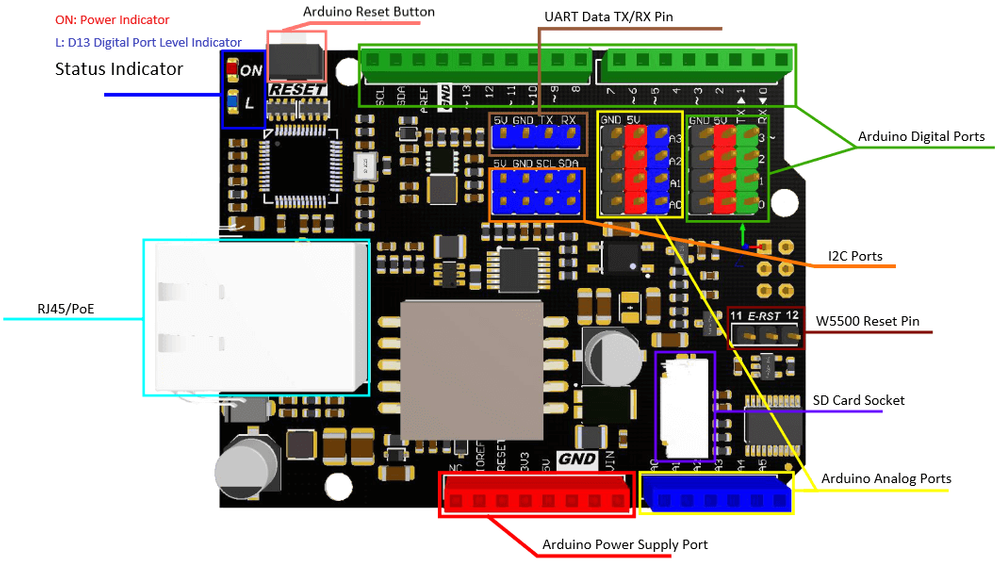 Features
Support hardware TCP/IP protocol: TCP, UDP, ICMP, IPv4, ARP, IGMP, PPPoE
Support 8-channel independent Sockets
Support WOL Wake-on-LAN
Internal 32KB for TX/RX buffer
On-board level converter circuit
Gravity 3Pin ports for connecting sensors
Specifications
PoE Input: 48V AC/DC (the product is a Class 0 PD device that meets the 802.3at standard)
PoE Power: up to 12W (the VIN port can output 12V/1A)
SPI Clock: 80MHz (Max)
PHY: WIZnet W5500
PCB Size: 68.6mmx53.3mm / 2.68 x 2.1 inch
Overall Size: 72.5mmx53.3mm / 2.85 x 2.1 inch
Documents
Shipping List
Ethernet & PoE Shield for Arduino-W5500 x1
2.54 Open-type Jumper Cap x1