40Amp 10V-45V SmartDrive DC Motor Driver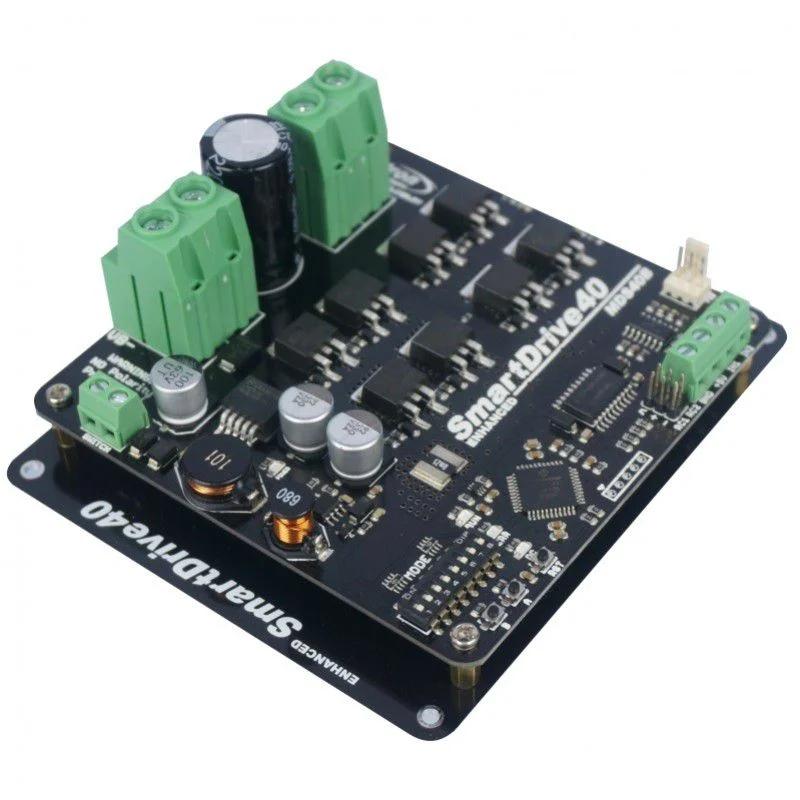 The Enhanced SmartDrive40 is an improved version of the MDS40A, specifically designed for driving brushed DC motors with a current capacity of up to 80A peak and 40A continuously. It features high-frequency MOSFET switching for quiet operation and a microcontroller unit for additional smart features such as multiple input modes, current limiting, and thermal protection. Additionally, multiple units can be connected to drive a robot with differential drive, making it a plug-and-play experience. This SmartDrive40 is also suitable for use in combat/rumble/fighting robots, including the ability to operate in RC mode. However, it is important to use proper wiring, as using thin jumper wires can affect the performance of the driver and motor control. We recommend using Multicore Wire AWG14 Red and Multicore Wire AWG14 Black for high current applications.
Features:
Bi-directional control for a single brushed DC motor.
Support motor voltage range of 10V to 45V.
Regenerative Braking.
Maximum current up to 80A peak, reduce to 40A gradually according to temperature.
16 KHz switching frequency for quiet operation.
No Reverse polarity protection.
LiPo battery low voltage warning.
Thermal protection.
Current limiting based on temperature.
Multiple input modes: RC (Radio Control), Analog, PWM, Simplified Serial and Packetized Serial.
On-board push button for manual operation.
Dimension:

105mm (W) x 106mm(D) x 38mm(H) - Actual driver board
and 125mm (W) x 107mm (D) x 47mm (H) - together with the base.

Increased Vin range, up to 45VDC, so you can utilize more battery and control higher power motor.
Responsive current limiting sensor and algorithm to better protect the driver itself and also your motor.
High Ampere screw terminals for both battery and motor connection.
Additional terminal for activate or deactivate driver further cut off the power to motor driver, eliminating the need for high power switch.
Use switching power supply for 5V regulation, higher output current (5V) and improved efficiency.
Option to add fan for better heat dissipation, further increase maximum continuous current.
Ready header for RC receiver connection.
Protection of over voltage.
Operating Condition:
Compatible input: 3.3 and 5V compatible input
Motor Channel: 1
Operating Voltage (VDC): 10 to 45
Peak Current (A): 80
Continuous Current (A): 40
Operating Modes:
Arduino Shield: No (can use wire connection)
PWM (Lock-Antiphase and Sign-Magnitude): Yes
UART: Yes
Analog: Yes
RC Servo Signal: Yes
Special Protection:
Polarity Protection: No
Current / Thermal Protection: Yes
Appearance:
LEDs Indicator: Yes
Test/Manual Button: Yes
Cooling Fan: No
Documents:

€ 78,75
€ 65,10

Excl. VAT (NL)
Ordered before 23:59, shipped today.
...

pieces

in stock
Almost sold out
Shipped from

€ 5,95

(NL)
30 days cooling-off
Excellent service
Customer questions
Customer Reviews
Recently viewed items