De LCD display module
Placed on

1602 LCD Display
Hoe werkt het 1604 lcd display?
Het 1602 LCD display werkt op basis van de HD44780 microcontroller, deze microcontroller bevat 248 karakters, welke in de chip zijn 'gebrand' (ROM), daarnaast kunnen er nog 8 eigen karakters worden opgeslagen (RAM) om te weergeven.
Verder bevat het display backlight, welke afhankelijk van de versie geel, groen, rood of blauw licht uitstraald. De meest bekende versie heeft groene verlichting. Het licht van de LCD kan worden aangepast met een potentiometer (variabele weerstand), maar vaak wordt een weerstand van 220 ohm gebruikt. Ook kan de contrast van de letters worden ingesteld met een potentiometer (10K).
Het LCD heeft een parallele interface, wat betekend dat de microcontroller op verschillende lijnen aangesloten moet worden om de juiste delen aan te spreken.
Register select (RS): Deze pin bepaald waar in het geheugen van het LCD geschreven moet worden; het data register, voor het schrijven van karakters naar het scherm, of naar het instructie register, om commando's te geven.
Read/Write (R/W): Lees of schrijf toestand.
Enable: Schrijven wel of niet toestaan
Data (D0 -D7): De data die naar het display wordt geschreven.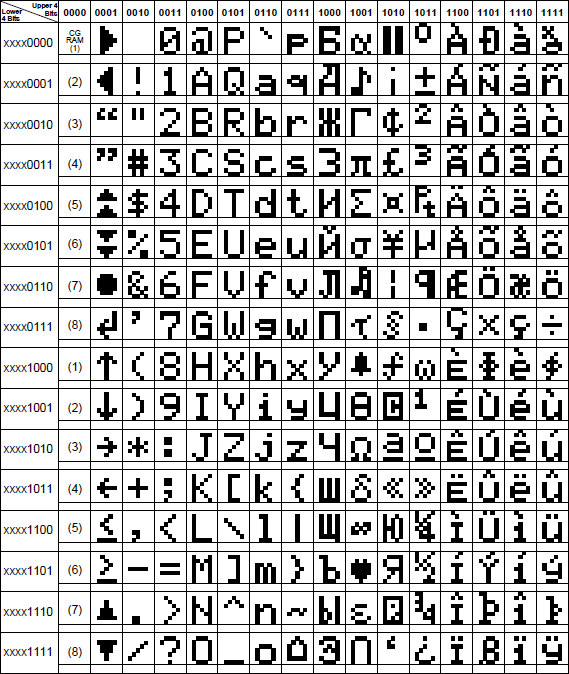 HD44780 karakter set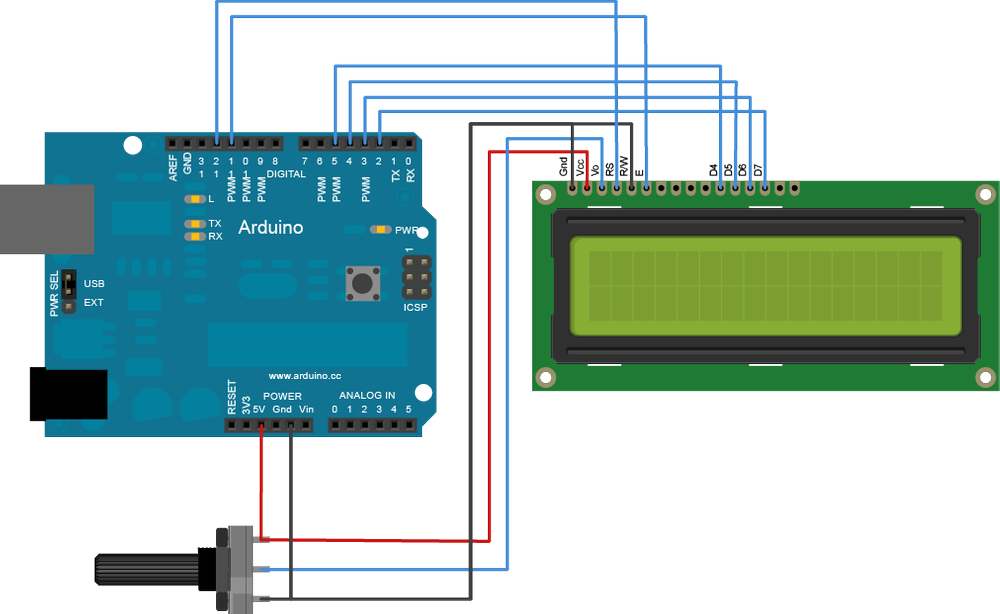 1602 LCD Pinout
4 bit en 8 bit modus
Het LCD kan in 2 modi draaien; 4 bit en 8 bit. Dit heeft betrekking op het aantal lijnen waarover de data wordt geschreven naar het display. Data dat naar het display word geschreven is altijd 8 bit lang, wanneer het LCD over 4 bit wordt aangesproken moet de data dus in 2 keer worden verzonden. Het voordeel hiervan is dat er in totaal maar 6 I/O pinnen aangesloten hoeven te worden in plaats van de 10 pinnen in 8 bit modus.

Wanneer er moet worden gelezen van het display moet R/W ook aan een I/O pin worden verbonden, maar deze is in dit voorbeeld verbonden aan ground (altijd schrijven).


LiquidCrystal Library
O
mdat het aanspreken van de juiste registers lastig kan zijn, is voor het LCD natuurlijk ook een library beschikbaar voor de Arduino. Deze library komt standaard bij de Arduino software, waardoor het niet eens nodig is extra bestanden te downloaden.
Zoals in het voorbeeld hiernaast te zien is, is de initialisatie met deze library heel simpel. Voor het schrijven van tekst hoeft alleen het aantal karakters op het scherm (bijvoorbeeld 16 x 2) en het gewenste bericht in te worden gesteld.
Eigen karakters toevoegen
In het geheugen van het LCD display kunnen 8 karakters worden toegevoegd met 5x8 pixels. Deze moeten naar het display worden geschreven als een array van 8 bytes. Ook dit is erg makkelijk te doen door middel van de library, zoals in het code-voorbeeld hiernaast te zien is.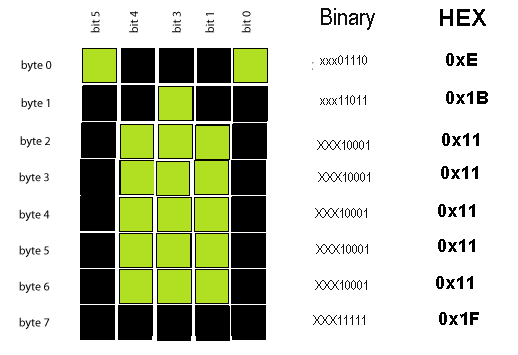 Custom karakters LCD display
I2C interface module
Met de I2C interface module worden nog meer pinnen bespaard. Deze module heeft slechts 2 data lijnen nodig om het LCD display aan te sturen. Let er wel op dat de baud rate op 115200 staat!
I2C LCD interface module
This module realizes a fast I2C interface with the familiar LCD displays (16x02, 16x04 and 20x04), which makes the control of these displays much easier and more economical with I / O pins.
In stock
€ 2,10
LiquidCrystal Library I2C
Er is een aangepast versie van de LiquidCrystal library beschikbaar om het display over I2C aan te spreken. Deze kunt u met onderstaande knop downloaden. De zip moet vervolgens in de Arduino library folder ( %HOMEPATH%\Documents\Arduino\libraries ) worden uitgepakt om te gebruiken.

Zoals in het code voorbeeld hiernaast te zien is, is het LCD display nog op dezelfde wijze aan te sturen. Op de I2C module zit ook nog een ingebouwde potentiometer voor de contrast van de karakters.
16x2 Characters lcd module blue 5V
This LCD has space for display with 2 lines of 16 characters. The display has white text on a blue background and uses the HD44780 'parallel interface' chipset and works on 5V.
In stock
€ 3,85
20x4 Characters lcd module blue
This is a standard display with 4 lines of 20 characters. It has white text on a blue background and uses the HD44780 'parallel interface' chipset.
In stock
€ 9,30