Discover Crowbits: Programmable, Magnetic Blocks
Placed on
We are pleased to announce that Crowbits are now for sale at Opencircuit ! Crowbits are smart blocks that help children and beginners learn programming and electronics. With over 80 different pieces, they provide a fun and engaging way for kids to learn new skills and let their creativity run wild.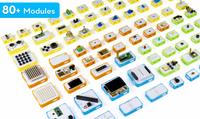 Easy to Use, No Programming Needed
One of the best things about Crowbits is that they are super easy to use. You don't need to know any computer language to get started. The blocks of Crowbits can be easily clicked together without any programming being required. This way, children can immediately start building and discovering. That makes learning fun!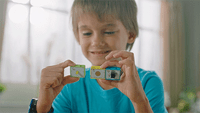 Crowbits are plug and play
Build With Crowbits and LEGO
What's even more fun than building with Crowbits? Build with Crowbits and LEGO! We've made Crowbits fit LEGO bricks. So kids can use them together and bring their favorite LEGO creations to life with Crowbits. It's a super fun way to work with technology!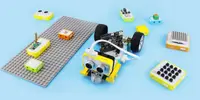 Crowbit is lego compatible
Step by Step Learning with Crowbits
Crowbits are meant to help children learn new things one step at a time. They come in three levels, from beginners to experts. Kids can start with no programming, then program a little, and finally program all by themselves. This way they can learn at their own pace and discover more and more about programming and technology!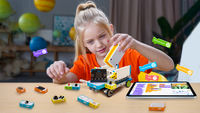 Crowbits are super fun and educational!
Discover the Different Crowbits Kits
At Opencircuit .nl we have different Crowbits kits, something for everyone. There's the 'Hello Kit' for beginners, the 'Master Kit' for the real techies, and much more! Each package offers its own unique experience and way to learn and create. And the nice thing is: you can also buy individual Crowbits parts to put together your own set!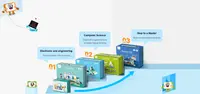 Crow bit kits
Discover the World of Technology with the Hello Kit
The Hello Kit is the perfect starting point for young explorers! This set is specially designed for beginners and requires no programming knowledge. With 7 electronic blocks and 5 cardboard projects, the Hello Kit offers a great first experience in the world of engineering. Kids can practice their skills, improve their dexterity and lay a foundation for learning programming. The fun begins with the Hello Kit!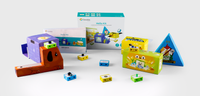 Crowbit: Hello kit
Crowbits Hello Kit
This is the Elecrow CRB0000HK Crowbits-Hello Kit, your entryway to programming and electronics. It's an easy-to-use, plug-and-play electronics set compatible with Lego blocks, perfect for beginners and kids.
In stock
€ 69,30
Go on an Adventure with the Explorer Kit
For those who are already a little familiar with technology, the Explorer Kit is the perfect next step. This kit contains 13 electronic modules and 12 exciting projects. It allows kids to build a solid foundation for programming while continuing to explore the world of electronics at the same time. With the Explorer Kit, kids can take their skills to the next level and learn even more about the exciting world of engineering!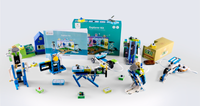 Crowbits: Explorer kit
Crowbits Explorer Kit - with 433MHz controller
The Crowbits-Explorer Kit from Elecrow is a beginner-friendly, programmable electronic block kit. With various sensors and a 433MHz controller, it offers an exciting and creative way to learn programming and electronics.
In stock
€ 172,45
Start Today with Crowbits
So, are you ready to start programming, building and creating? Visit Opencircuit .nl and discover the world of Crowbits! We can't wait to see what you'll make.