De HC-SR04 ultrasonische afstands detectie module
Placed on

Ultrasonische module
Hoe wordt de afstand berekend?
De SR04 gebruikt het principe van de weerkaatsing van geluid. De module zend een geluidspuls uit van 40kHz en wacht tot deze ontvangen is.

De tijd tussen het verzenden en ontvangen van dit geluids signaal kan vervolgens worden gebruikt om de afstand te berekenen. De snelheid van geluid door lucht is ongeveer 340 meter per seconde of
0,034cm / μs.

De tijd tussen verzenden en ontvangen moet door 2 gedeeld worden omdat het geluids signaal 2 keer de afstand naar het object heeft afgelegd (heen en terug).

Met deze gegevens kan de afstand worden berekend met de volgende formule:
Afstand(cm) = T(μs) * 0,034 / 2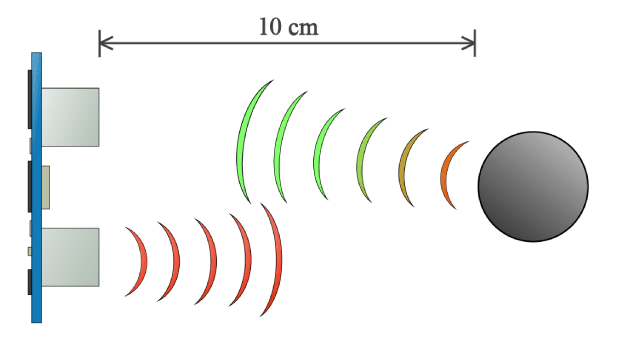 Ultrasonische sensor functie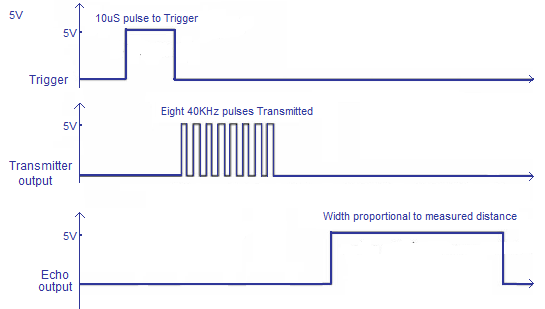 Ultrasonische module timing diagram
Hoe werkt de SR04 module?
De module bevat 2 losse ultrasonische sensoren met daarnaast de benodigde elektronica om de geluids pulsen te verzenden en ontvangen.

Waneer een startpuls (10μs) wordt gegeven door een microcontroller, dan zal de module 8 x een puls van 40kHz uitzenden om vervolgens te luisteren naar een echo.

Vanaf dit moment zal de output pin van de module een hoog signaal geven, welke weer laag word wanneer een echo is ontvangen. Om te voorkomen dat latere echo signalen nog interfereren is het aan te raden minstens 60ms te wachten tot de volgende meting.

Conclusie
De HC-SR04 object detectie is een zeer handige module, waar je met enkele regels code de afstand tot een object kan meten. Dit maakt het mogelijk om non-toch schakelaars te maken of met een robotje de omgeving te scannen. Door het gebruik van een servomotor en een beugel om de module op zijn plaats te houden wordt het meetbereik ook nog eens vergroot.
HC-SR04 Ultrasonic distance detection module
The HC-SR04 module measures distance to objects by means of ultrasonic reflection. This is done by firing pulses of 40 kHz to the environment, after which the time required to receive the reflected signals is measured.
In stock
€ 2,60
Ultrasonische sensor mount transparant
Sensor mount for attaching the HC-SR04 ultrasonic sensor module. In this way the sensor can easily be mounted on a base or servo. By placing this bracket on a servo motor, it can be used as a sonar on a robot car, for example.
In stock
€ 2,15