Arduino Leonardo - Electronic Lock
Placed on
This project is just the barebones. It's an 3X4 Matrix Numpad with an 4 rows x 20 characters display and a servo (optional).
Options:
Enable Changing the passcode while the pragram is running
Enable the servo (only usefull for testing purposes )
Enable the serial debug (only for test purposes or nerds :-) )
Further code changes can be found on my github page: https://github.com/Sani7/ArduinoLock
How does the code work?
First we create all our variables (A lot at first but we use them all)
Second we initialize all our libraries

The keypad library requires us to give the Keymap (Where every key is positioned), how many rows and colloms there are and where the pins are connected to
The LCD library requires us to give some stuff too
The servo library requires us to create an attribute for our new servo

Features:

The initialization of the LCD Now to start the program we want to test if the lcd is fully functional by:

Enable, disable and reanabel the backlight
Showing the start message on the screen

The ability to disable backlight after 30 seconds
Getting the pressed key
Getting the code from user input
Check the code if it's correct or not
Open or close the lock
Read and write the stored code to eeprom memory
Getting a new code while the program is running
Comparing the to given codes and see if they match

Setup:

Getting the eeprom code
When enabled initialize the servo library to attach to the servo
Initialize the lcd
When enabled initialize the Serial communication

main loop:

Getting the key press
When you are in the unlocked state and you press * the lock is going to close
When you are in the unlocked state and you press # the lock will enter "Change Passcode" state
Open the lock when the LockState in true same as Opened (Pretty straigth forward isn't it)
Or getting user input to get the code.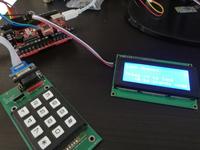 Arduino Leonardo - Electronic Lock - Opened